Collection: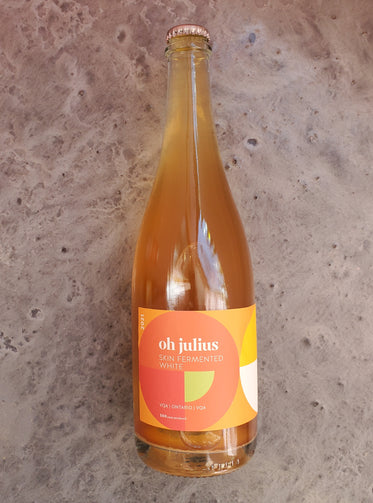 Collection:
Trail Estates Orange 'Nouveau' 2021 Oh Julius
Trail Estates Orange 'Nouveau' 2021 Oh Julius
Regular price

Sale price

$42.00
"
It shows a light orange colour in the glass, and you can drink it as cloudy (and flavourful) as you want by stirring the sediment before pouring into your glass. The nose is alive with tangerine, Orangina, mulled peaches and pears, ginger spice and concentrated lime/citrus notes. It's tangy, dry, and austere on the palate with light tannins, fresh tangerine, orange zest, peach skins, an earthy note, and a bright, vibrant finish.
"
Rick VanSickle, Winesinniagara.com
A Wild-ferment, Unfiltered and Unsulphured Orange wine: eminently quenchable!

An eclectic mix of aromatics balanced by the varying lengths of time spent on the skins during fermentation. Pear blossom, grapefruit and clementine are followed by soft tannins and refreshing acidity. 

59% Riesling, 35% Gewürztraminer & 5% Muscat. A mixture of skins was added to the top of each tank to create a cap and protect the wine for further ageing. Pressed after a couple weeks of further ageing on skins. Settled for a few weeks before bottling straight from tank. Bottled raw with no sulphur or additives.