Collection: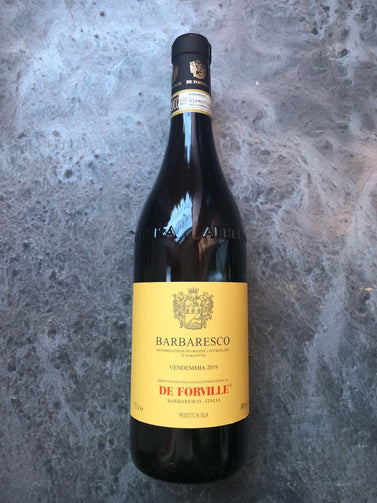 Collection:
De Forville Barbaresco Vendemmia 2019
De Forville Barbaresco Vendemmia 2019
Regular price

Sale price

$75.00
Full-bodied and soulful, this entices with fragrances of crushed blue flower, rose petal, pine forest, perfumed berry and notes of tilled soil. The juicy palate offers layers of ripe dark cherry, crushed raspberry, black pepper, leather and cinnamon alongside assertive but fine tannins and bright acidity.
De Forville Description
The DeForville family emigrated to Piedmont from Belgium in 1848 and established themselves in the village of Barbaresco in 1860. Here, the family was instantly engaged in growing the Nebbiolo grape under the direction of Gioachino De Forville. He was succeeded by his son, Vincenzo, followed by Vincenzo's nephew, Paolo and, then, the fourth generation is represented by Paolo's daughter, Mafalda and her husband, Bruno Anfosso. Now, the fifth generation is in place: Valter and Paolo Anfosso, the two sons of Bruno and Mafalda. We are particularly proud to note that, along with the Ferrando family in the northern reaches of Piedmont, we have worked with the Anfosso-De Forville family since the very first moment of our engagement as importers of wine for the USA. Our first vintage together was 1978 and we have worked together every vintage since that time.
In the early part of the twentieth century, the DeForvilles sold their wine in bulk directly to restaurants and to retailers who then bottled the wine. In 1940 the estate bottled its first wine and now virtually their entire production is bottled at the estate with annual output averaging 100,000 bottles.
The nearly 11 hectare domaine is divided between holdings in the villages of Barbaresco [4.5 hectare] and Castagnole Lanze [6.5 hectare], a commune that is about four kilometers east of Barbaresco in the direction of Asti. The family production is supplemented by purchases of grapes from growers with whom the Anfosso family has long ties, usually over multiple generations. Within Barbaresco, Nebbiolo is planted in the "cru" vineyards of Rabaja, Loreto and Pozzo. Dolcetto is also planted in the Loreto site and Barbera is cultivated within the "cru" of "Ca'Grossa". The production from the vineyards in Castagnole Lanze is from the site known as "Ca del Buc".